The independent definitive Ford Ranger pick-up (2016-2018) video review
How will you view?
This is a sample, showing 30 seconds of each section.
RANGER RE-RIGHTED
(some text hidden)
By Jonathan Crouch
Introduction
word count: 71
For the 2016 model year, Ford improved its third generation Ford Ranger pick-up to be more efficient, while also making it smarter and more media-savvy. Plus it remained still tough and decent to drive for a vehicle of this kind. The idea was to tempt everyone from builders to surf-boarding, mountain-biking families with what had become a very complete product. Let's check out the 2016-2018-era Ranger from a used buyer's perspective.
Models
word count: 10
2/4dr pickup (2.2 TDCi (125/150PS), 3.2 TDCi [XL,XLT, Limited, Wildtrak])
History
word count: 491
Think of a pick-up and Ford is a name you just can't ignore. Japanese makers may have conquered the European market in modern times, but the Blue Oval brand has a heritage in this segment going back far further than that, with pick-up sales that have run into their millions Stateside. Even the company's very first Model T back in the early 1900s could be bought in small truck form with a closed cab and a flat deck at the back. In those days, as well as in more recent times, vehicles like these could happily be as rough as they were tough. No longer. Today's pick-up must be almost all things to all people, a hard core business tool by day and family transport by night. A load lugger and a leisure SUV all rolled into one, with car-like road manners and affordable running costs. It's a brief that many modern contenders in this segment struggle with but one Ford claimed to have got closer to meeting than ever before when they launched this third generation Ranger model early in 2012, when they launched the original version of this third generation Ranger model early in 2012, before improving it in late 2015 to create the vehicle we're looking at here. It needed to be. In the modern era, Ford hasn't found it easy to create a pick-up tailored to the needs of European customers and has been trying since 1999 when we first saw the earliest version of this model. The MK2 variant of 2006 was better, facelifted in 2009, but it still couldn't properly compete with the tough Japanese triumvirate that rule this market segment this side of the Atlantic, Mitsubishi's L200, Toyota's Hilux and Nissan's Navara. By the mid-part of the 21st century's second decade, all three of these models had been re-launched in new generation guises, plus the segment had seen the introduction of a fresh entrant, the Fiat Fullback. Add in the challenge posed by a substantially revised version of Volkswagen's Amarok and it's easy to see why in late 2015, Ford needed to do more than merely give this MK3 Ranger a quick wash 'n brush-up. Hence the way that this facelifted model's smarter look was accompanied by extra safety features, a more car-like cabin, cutting edge media connectivity and fuel efficiency improvements of up to 17%. As previously, the 2016-2018-era version of this vehicle claimed to be a little more car-like to drive than its closest rivals and remained a design versatile enough for export to over 180 countries. Ford reckoned it was perfect not only for core pick-up customers like farmers, plumbers and jobbing builders, but also for the self-employed private people increasingly wanting a vehicle like this as a lifestyle accessory. It sold in this guise until Ford treated the model line to another far-reaching update in 2019. It's the 2016-2018-era Ranger mofdels we look at here from a used buyer's perspective.
What You Get
word count: 926
Almost the only global market in which this MK3 Ranger wasn't sold was that of the US. Apparently, it isn't big enough. Seems pretty large to us, nearly five and a half metres long and with a bulk quite intimidating enough to frighten away fast lane dawdlers. The updated exterior design of this 2016-2018-era third generation model aimed to further enhance this imposing presence with a tough but trendier look. Inevitably, that's most noticeable at the front, where a more muscular bonnet flows into an imposing trapezoidal grille. This features the kind of more imposing look that you get with Ford's US-market pick-ups - the F150 model being a good example. And it's flanked by restyled projector headlamps that make this truck more instantly recognisable. Like most of its pick-up competitors, this one comes with a choice of three bodystyles - a two-seater 'Regular Cab', a so-called 'Super Cab' with its occasional rear seats and the four-door Double Cab that most end up buying. And up-front? You climb up high to perch behind the wheel of any pick-up and this Ranger is no exception, with an airy, commanding cab offering great all-round visibility and class-leading front seat headroom. As for what's different with this post-2016 revised third generation Ranger, well the funky 'G-Shock' watch-inspired dashboard used in the original version of this MK3 model had had to make way here for a more conventional centre console. That was mainly because of the need to incorporate the 8-inch 'SYNC 3' colour touchscreen that Ford introduced for the 2016 model year and fitted as standard to plusher variants, there to play its part in reducing button clutter and giving the cabin a cleaner, smarter feel. Anything this monitor can't tell you will be covered off by the revised instrument binnacle display, the other key change made to this improved MK3 model. Here, a central speedo is flanked by digital colour displays on either side, with entertainment and 'phone functions on the left and driving functions on the right. True, not all of the plastics are high grade and soft to the touch, but the brand says, with some justification, that this is mainly because the materials need to be far more durable in a utility vehicle of this kind. One that must be practical to live with - and is, with more interior space for your bits and pieces than any other competitor thanks to no fewer than 23 different stowage areas, everything from door pockets for 1.5-litre bottles to a glovebox big enough for a 16-inch laptop computer. There's also a deep 8.5-litre centre console bin that can optionally cool up to six cans of drink and big enough to shut away the smelliest Indian takeaway below an upper tray moulded to store a mobile 'phone and coins. And the back seat? Well it's here that traditional pick-up compromises tend to be made, with cramped legroom and, worst of all, a ridiculously upright rear backrest there to give packages in the loadbay behind priority over people. Now don't get us wrong: we're not suggesting that this MK3 Ranger radically changed things in this respect - but again, it raised the bar in this segment. By moving the central B-pillar forward, best-in-class rear legroom and knee clearance was achieved. And though this vehicle is actually narrower than an ordinary Ford Mondeo (and up to 100mm narrower than some of its rivals), it is possible to get three adults across this back seat without too much discomfort: two six-footers can certainly sit one behind the other with ease. Under the rear bench, you've hidden storage bins to keep tools and valuables away from prying eyes. Or, if the rear seat isn't in use, you can fold down the backrest for packages you may not want to consign to the rear loadbay. What about that rear loadbay? Well the 'Regular Cab' and 'Super Cab' models continue to offer some of the very largest cargo areas in the class, with load boxes that respectively measure in at 1.82 and 1.45 cubic metres. The Double Cab version is also more than competitive, with a 1.21 cubic metre load box. If you want a few more specifics on that, we're talking a loadbox depth of 511mm and a loadbox length that varies from 2317mm for the two-seater 'Regular Cab' model, to 1847mm for the 'Super Cab' and 1549mm for the Double Cab variant. All Rangers have a loadbox width of 1560mm, narrowing to 1139mm between the wheel arches, still easily enough to accommodate the kind of Europallet you shouldn't have too much difficulty in lifting up to floor level thanks to a reasonable loading height that on the Double Cab is 835mm. Payload capacities aren't quite as impressive, but you'll still be able to carry a gross figure of up to 1,199kgs if you choose the right version of the Double Cab model. Bear in mind though, that this capacity can fall to only a fraction over the one tonne mark on a 3.2-litre version. Go for the 2.2-litre-only 'Super Cab' and 'Regular Cab' body styles and this is much less of an issue. On a 'Regular Cab' variant, the gross payload figure can be as much as 1,269kgs, while with a 'Super Cab' model, as much as 1,230kg is possible. As for the weight you can tow, well choose the right variant and you'll be able to lug along up to 3,500kgs, a figure that's matched only by the Isuzu D-Max and the Nissan NP300 Navara in this class from this era.
To see the full road test text contact us on 0330 0020 227
Pictures
(high res disabled)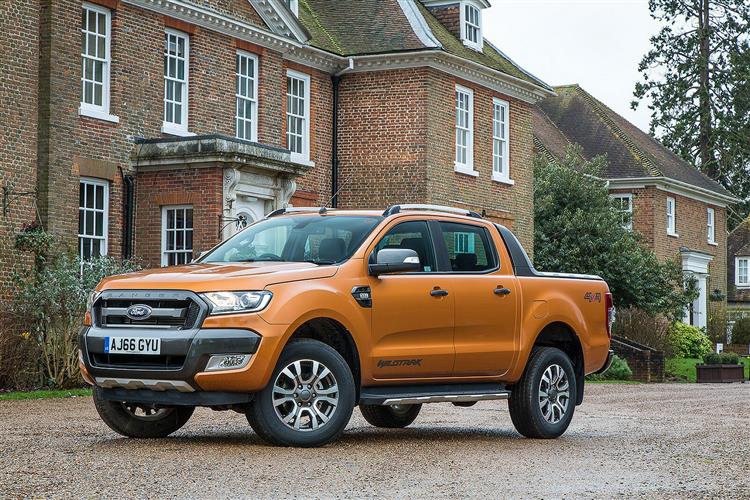 Subscriber? Login here
Mobile
Narrow
Narrower
Normal
Wide