The below editorial is an excerpt from our full review.
To access the full content library please contact us on 0330 0020 227 or click here
CLASSIC FROM THE FAB FOUR
(some text hidden)
By Jonathan Crouch
Introduction
word count: 44
A rear-wheel drive, mid-engined sportscar based around a lightweight carbon fibre chassis? That'll be a McLaren or a Lamborghini, right? Not in this case. Alfa Romeo has long been a brand of unfulfilled promise. With the 4C, it got itself right back on track.
Models
word count: 6
2dr sports coupe / convertible (1.75-litre)
History
word count: 386
Back in 2013, it had been thirty years since we'd seen a real Alfa Romeo sports car for real people. But then came the 4C. This was the car tasked with spearheading this brand's global revival - not in terms of sales but significance. From being a manufacturer with a model range smaller than Ferrari, Alfa aimed to transform itself throughout the 21st century's second decade with new sports saloons and SUVs for global buyers, whose interest in this Milanese marque needed to be reawakened. It was the 4C's job to go ahead of these fresh models and do just that, re-launching its maker in the States and offering the world an Alfa with the soul of a supercar. At a stroke, this car returned us to the days of the company's classic models. For 4C inspiration, the stylists talked of the Scaglione-designed Alfa 33 Stradale of 1967. For the engineers, the direct 4C descendent was Pininfarina's Alfa Spider of 1966 - rear-driven of course, like this 4C. Before this car, there hadn't been a rear-driven mainstream Alfa since the 75 saloon of 1985, the last independently-designed model made by the brand before it was acquired by Fiat. For enthusiasts like us, the memories were more modern, with plenty of design cues bringing to mind the car that borrowed the naming convention of Alfa's 6C and 8C sportscars of the Thirties and Forties - the numerals designating the number of cylinders their engines used. We're talking of the short-lived 8C Competizione supercar, launched in 2007 and assembled for this brand by Maserati, the very people who lovingly took on the task of assembling this, its populist successor. That fact is significant. The decision early on to base this car on an exclusive carbonfibre chassis of a kind shared only by an exclusive Mclaren 650S supercar would normally mean equally exclusively small production numbers. Yet Alfa was firm in requiring Maserati to hand-build this car for sale in thousands, not in hundreds and at a price that aimed to bring F1 technology to the modern man. This aimed, in short, to be a legendary sports car almost anyone could aspire to. The kind of thing Alfa used to build. An open-topped Spider version joined the standard coupe model in 2015. And the 4C ended production in 2020.
What You Get
word count: 1252
Your first impressions of the 4C are of a bigger, more physically imposing car than the pictures suggest. True, it's only fractionally longer than a Lotus Elise but it's virtually as wide as a luxury Mercedes SL, which gives it a pugnacious, foursquare look. There's certainly none of the daintiness that characterised, say, an early Alfa Spider. No, this thing looks like it means business. Stylist Alessandro Maccolino talks of his inspiration for this shape being drawn from the achingly beautiful Alfa 33 Stradale coupe of 1967, but when it comes to Italian mid-engined cars with an aggressive over-square footprint, enthusiasts are more likely to think of the iconic Lancia Stratos of the Seventies, echoes of which travel down through the years into this 4C model's side window shape, the arc at the base of its windscreen and the minimal overhangs. There's plenty else to catch the eye too, with elements of contemporary Ferrari design in the surfacing of the panels and spectacular alloy wheels that reference Alfa's beautiful 8C Competizione coupe. There's a truly functional beauty to this car as well, say in the way the rear spoiler flows from the bodywork without interruption, or the way the rear end envelops the jewel-like tail lights. We haven't yet mentioned the headlamps because we can't be bothered with all the fuss that's been made about them. Actually, we happen to think that the optional Bi-LED units you'll find fitted to most models look quite smart, but if you really don't like the look, there's talk in Alfa forums of being able to retro-fit coupe models with the sleeker one-piece units used on the open-topped Spider version. For us, a greater blight on the sweeping shape is that, like so many contemporary Alfas, the front end of this one is marred by having to fit a clumsy great British number plate. It's only when you have a look at engineering cutaways of this car that you realise how tautly the outer skin is wrapped around the bits that matter. It's made from hi-tech SMC (that's Sheet Moulding Compound) a hi-tech low density material that's lighter than aluminium and completely appropriate for what is a competition-style automotive design - quite literally in fact, for the carbon underpinnings the 4C sits upon were created with the help of single-seater racing manufacturers Dallara. You can't avoid them, for as soon as you open the driver's door, there's a high sill to step across fashioned from polished carbonfibre weave. It's the same sort of thing you'd be faced with in a Lotus, except that there, the tub would be fashioned from less sophisticated aluminium rather than a material previously limited to lottery-winning supercars. The slow process of creating this model's exotic chassis was one of the things that so restricted the 4C's production - to just 3,500 cars a year for worldwide sale. Well, that and the fact that instead of rolling from Alfa's mechanised production line, it was hand-built in Modena for the brand by Maserati, where it was fashioned alongside Quattroportes, Granturismo and Grancabrio models at the company's famous city centre plant in the Viale Ciro Menotti. Levering yourself into the cockpit doesn't leave you resorting to quite the sort of gymnastics required of an Exige driver but it's still enough to imbue a race-ready feel. Get your foot in first, slide down into the beautifully supportive bucket seat then heave your other leg in and you're greeted with a competition-style cabin dedicated to the pursuit of performance. You even need a seat fitting to properly drive it, with the exact seat height set up for you when you collect the car. Unfortunately, that means it can't be adjusted again unless you reach for your spanners - and the passenger seat can't be adjusted at all. Like everything else in this car, it's all a part of weight-saving design, further evidence of which is found with the simple leather pull handles on the doors, the light but durable plastics and glass reduced in thickness by 15%. Really dedicated original buyers could even pare back another few pounds by deleting the air conditioning and stereo systems. Don't go expecting the fashionable tactility you'd get from a Porsche - or from just about every other sports car you could buy for this price, apart from a Lotus. The dash materials are a bit scratchy, there's borrowed Fiat switchgear, the paddle shifters feel thin and plasticky and it doesn't help that the curiously-shaped steering wheel is far from an aesthetic triumph. Alfa's argument of course, is that dealing with all of these issues would have added back in all that saved weight but we think you can keep something light and still make it look great. Apple can do it with a MacBook Air. Pinarello can do it with a push bike. Alfa should be able to do it with an interior. They're Italians. They ought to be able to make things look good. What we do like is the in-dash TFT screen which carries a big electronic tacho surrounded by a digital read-out of your speed, gear, temperature, fuel and that most crucial piece of driving information, the date: don't ask. Switch the car into the 'Race' setting you'll find on the transmission tunnel DNA driving mode selector and you'll notice the whole display change shape and colour as you adjust to the sharper throttle, the quicker gear changes and the fact that, rather bravely if you're on a public road, you've opted to do without the safety net of stability control. So you'll need to be at your best behind the wheel, fortunately aided by a nigh-on perfect seating position, with little in the way of pedal offset. Even that awful steering wheel redeems itself a little here by offering up a decent amount of adjustability. The rear view though, is dreadful and the best investment you can make after having decided on a 4C is either some foam padding at the back of your garage or a set of parking sensors. Even that won't completely help with every aspect of parallel parking thanks to invisible wings, wheel rims and wheel arches that all but disappear from view the moment that reverse is selected. While we're sounding practical, we'll point out that there's no glovebox, though you do get a couple of cup holders under your elbow, along with two slots beneath the dashboard where you can slot a bag of Haribos or your inevitable speeding tickets. As for storage of larger items, well you might expect a mid-engined Alfa, like a comparable mid-engined Porsche, to give you trunk space both at the front and the rear. In which case, you'll be disappointed. There's no front boot, or 'frunk' as these things are apparently now known, with the area you'd normally think of as the bonnet instead being fastened firmly shut. Instead, carriage capacity is limited to 110-litres, about the same as you'd get in a Lotus but a quarter of the size of the total space provided by a Porsche Cayman. Enough perhaps for a squashy bag or two on a weekend away but the heat soak from the engine and exhaust will be so great on the scenic route back from Sainsburys that your eggs will probably be soft boiled by the time you get them home. There's not even a hydraulic strut to hold the boot lid open, this another victim of the weight-saving regime. You've got to love that level of fanaticism.
To see the full road test text contact us on 0330 0020 227
Pictures
(high res disabled)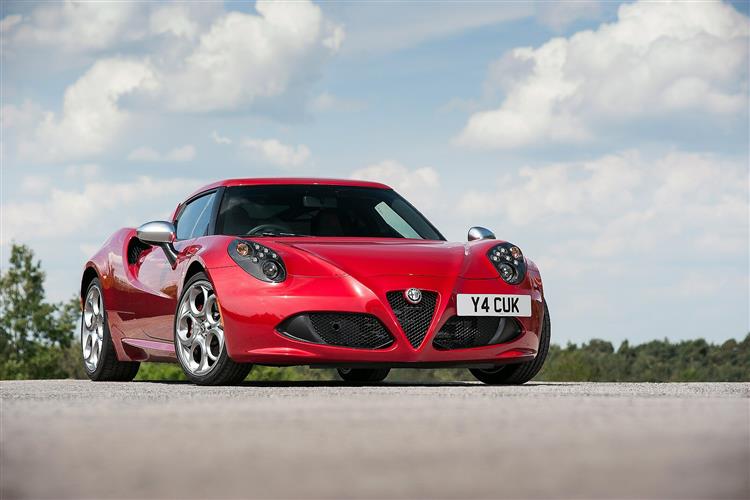 Scoring
(subset of scores)
Category: Sporting Cars
Performance
Handling
Comfort
Space
Styling, Build, Value, Equipment, Depreciation, Handling, Insurance and Total scores are available with our full data feed.
This is an excerpt from our full review.
To access the full content library please contact us on 0330 0020 227 or click here
Client login
Mobile
Narrow
Narrower
Normal
Wide